5,000 U.S. Cru Staff Members gathered at Colorado State University, July 16 – 23 for Cru17, the biennial training & teaching conference for Cru / Campus Crusade for Christ.
Everyone gathered for General Sessions in The Rams' Moby Gymnasium.  Heightened security for the conference required each participant to wear not only their large conference name tag, but also a bright orange waterproof wristban complete with the Cru logo.  A few early arrivers beat the crowds to enter through one of the north entrances to Moby Gymnasium.
Ministry-specific sessions and special interest seminars took place at various other meeting rooms around campus.  The front range of one section of the majestic Rocky Mountains provided a beautiful backdrop for this meeting in one of the student center ball rooms.
Two days before the main conference, we joined about 500 other long-term, Legacy Staff members (60 years and older) to worship, study the Bible, and attend to business related to our age and stage in life and ministry.  Later in the week we gathered with honorees who were recognized for special ministry milestones.
Can you make out the "40" shaped balloon behind us?  (We actually celebrated our 40th year in 2016, but because the staff conference takes place only on odd-numbered years, this was the year we were officially recognized).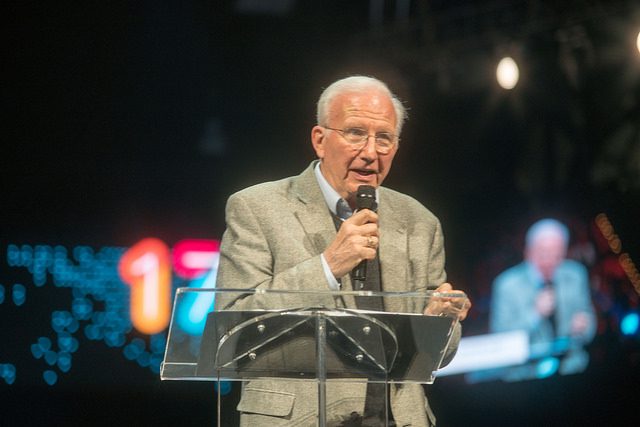 On the last evening of Cru 17,  the president of the world-wide ministry of Campus Crusade for Christ, Steve Douglass, shared encouraging news about significant strides we are making toward the fulfillment of the Great Commission, especially in partnership with other ministries.  But, noting serious atrocities taking place every day, a U.S. national debt higher than it has ever been, and the growing threat of nuclear weapons in the hands of countries that seem willing to use them, Steve urges  us to follow the exhortation of Jesus in John 9:4, "Work whle it is yet day!"
Grateful for your ministry partnership with us,