January 2023 update:
On January 5, we presented our request to the Community Council to obtain final zoning approval for the site plan of the property. We won approval and now any opponents have 14 days to file an appeal, so January 21 will be the next critical date.
For the past 27 years, we have prayed on the property almost every Sunday of the year. Help us cover the next steps in prayer. More details to come.
Previous Update:
For many years, we have desired to build a church in South Miami, Florida. In our mission to help people find and follow Christ, the Lord has given us the vision to build local churches and has provided us the resources. Through change and challenges, He has redirected and clarified our plans for the Sunset Property.
We remember that "in their hearts, humans plan their course, but the Lord establishes their steps." Proverbs 13:9
Recently, the Lord has established some next steps for us. Christ Journey's combined efforts of both staff and volunteer leadership, as well as church body governance, will continue to watch, listen and pray as we make wise decisions together, based on the most current information and circumstances. We are so hopeful for the Lord to grant us favor to build a church facility that extends His reach in the city of Miami! Join us in praying for this, and for those whose hearts and minds will be closely connected to the process.
Below is a current snapshot of where we are. The information on this site will be updated as future developments and decisions are made.

LAND
Christ Journey Church owns approximately 20 acres of prime real estate on Sunset Drive, just east of the Palmetto Expressway.

SALE
We are currently under contract to sell the back of that property (approximately ⅔) to the CC Group (Codina Carr), for a residential development project. Proceeds from this transaction will fund the development of a church facility on the front ⅓ of the property (with frontage to Sunset Drive). A conceptual plan is provided below.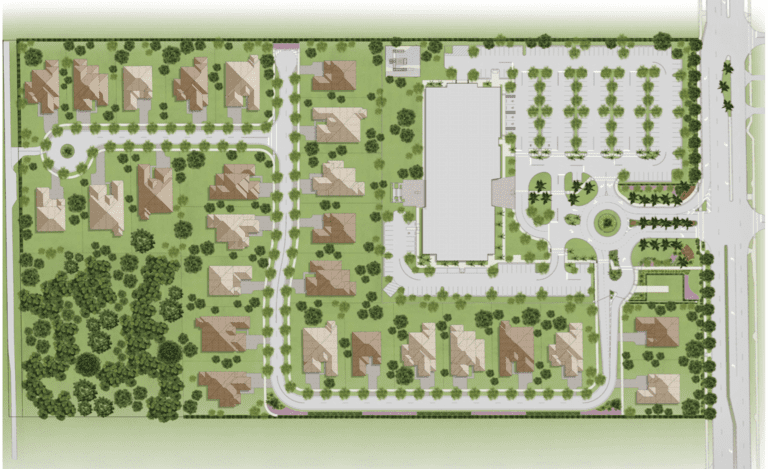 DESIGN
We have a viable design for the contemplated front ⅓ of the property (6.31 acres).
We have retained an architect to complete the design and navigate all aspects of updates and improvements: documents, approvals, and oversight. The design will be shared at a later date.
ZONING
We already have zoning approval for a church, but we are modifying the original design, so we are submitting a combined zoning application with the CC Group.
We have retained the legal counsel of Shutts & Bowen for the zoning approvals.
CONSTRUCTION
The planned design for the church is an approximately 40,000-square foot facility with an auditorium, church classrooms, office space, and various other amenities.
We have retained the services of an Owner's Rep to help us navigate all aspects of the design, zoning, and approval process.
For questions related to the Sunset Property, please email [email protected].