During the past 12 months I have had the privilege of participating in two mission trips; one to Guatemala with Filters of Hope and one to the Ocean City, New Jersey summer beach project. Both trips transformed the lives of Purdue students. Hear about it straight from the students themselves…
"A week is an incredibly short amount of time, yet God used a single week to completely revitalize my life. Before this spring break trip to Guatemala, my faith and relationship with the Lord were not a foremost priority in my life; I instead just used Him to try and get everything I wanted. Through the people and their stories, I saw how faithful and trusting they were of the Lord despite their materialistic poverties. Yet somehow I noticed that some of these people were far richer than I was, but their richness came from the love of God and the relationship they had with Him. By seeing this passion for the Lord, not only by some of those individuals living in Guatemala, but from the leaders and fellow students I came with, I began to desire a stronger and more fortified relationship with God. And once the week was up, I realized and decided that God was no longer going to be on the back burner of my life, but that He is, and forever will be, my number one priority." -Ruby, Guatemala, Filters of Hope Spring Break 2019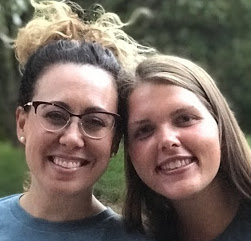 "Going on a summer mission to Ocean City, NJ, was one of the most impactful experiences of my life. During that time I was able to learn how to effectively share my faith, grow in leadership, and learn how to trust God more and submit my life to Him." -Emily, Ocean City, NJ Summer Mission
Your partnership enabled me to go on these trips to work with Ruby and Emily! It is extremely gratifying to see the Lord transforming the lives of our students, who have been equipped to follow God's call so He can use them to reach the lost. You are a continual source of joy and encouragement as you pray and give faithfully to my ministry. Thank you!
As I look into 2020, I am excited to announce two amazing opportunities in which I will be able to invest in the lives of students.
•Purdue Cru New York City Spring Break Trip 2020- I have the privilege of leading a group of Purdue students to participate in a week long mission trip. The NYC Campus Spring Break will equip students to share their faith as they grow in their understanding and sensitivity to new cultures. They will deepen their relationship with God while getting to explore and experience the only city renowned as the capital of the world!
•Chicago Summer Project 2020- I have been invited to join the leadership team of the Chicago summer project. Located in the heart of this great city, our project will seek to both reach out to the 300,000 + university students while also placing great emphasis on developing student leaders. Students who engage in this project can expect to develop practical ministry skills and the tools necessary to be a strategic leader both in Chicago and back on their campus.
Would you please pray for these upcoming trips?
Pray that the Lord would move Purdue students to sign up to invest their time in these trips that will foster immense spiritual growth.

Pray for Ruby as she has decided to come with me on the Chicago Summer mission trip. 🙂 

Pray for me as I lead on these trips. I need wisdom, discernment, perseverance, and patience as I am still learning how to lead students well. Pray that I would lead in the power of the Holy Spirit and not in my own strength.
I am so grateful for your partnership with me in this ministry to students at Purdue University and around the world! I could not do it without you!
-Megan Rodriguez